Spegnere il quadro della moto.
Switch the ignition off
Togliere la sella del pilota e individuare il connettore NERO della centralina
Remove the seat and locate the BLACK ecu connector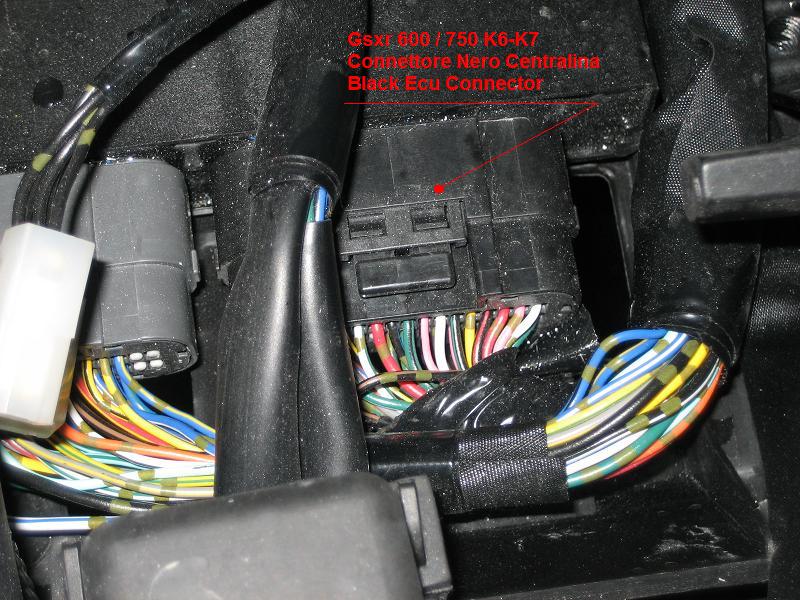 Scollegare il connettore nero dalla centralina e rovesciarlo. Nella foto il filo del PIN30 è già stato rimosso.
Unplug the connector and turn it upside down. In the picture the PIN30 wire has already been removed.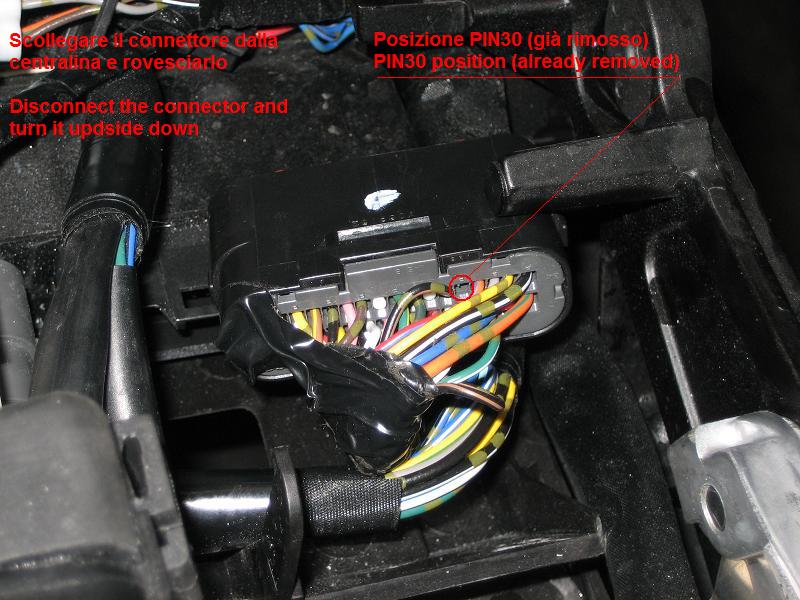 Nota: sia il PIN30 che il PIN29 hanno fili di colore uguale marrone con traccia nera.
Il PIN 34 è l'ultimo della seconda fila, il numero è stampato sul connettore.
Note: Both PIN29 and PIN30 wires are black color with brown trace.
The PIN number 34 is the last of the second row, the number is printed on the connector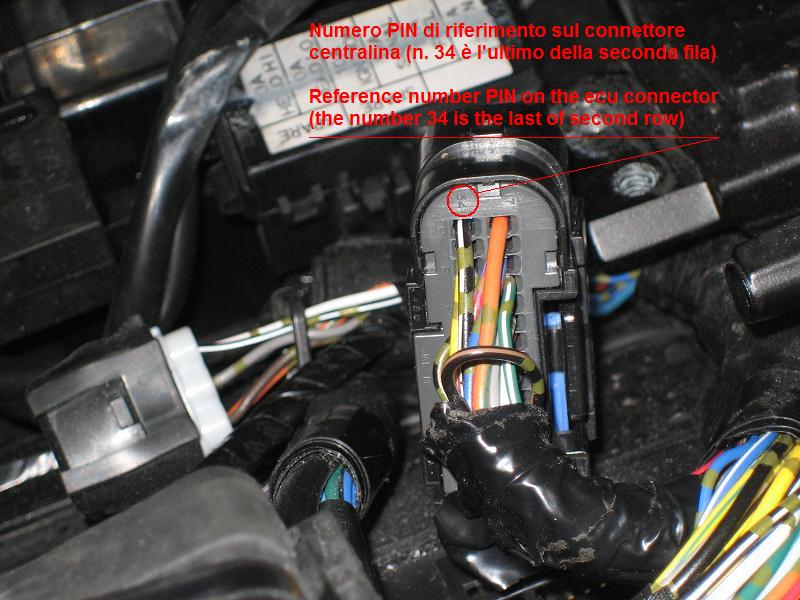 Non è necessario tagliare il filo, è possibile sfilarlo dal connettore seguendo le istruzioni di seguito:
Note: It is not necessary to cut the wire, it is possible unplug it from the connector as show below:

Con due piccoli cacciaviti spostare le due linguette verso l'esterno, quindi estrarre la copertura in plastica arancione.
Using 2 small screwdrivers move the small tasks towards the outside and pull out the orange plastic.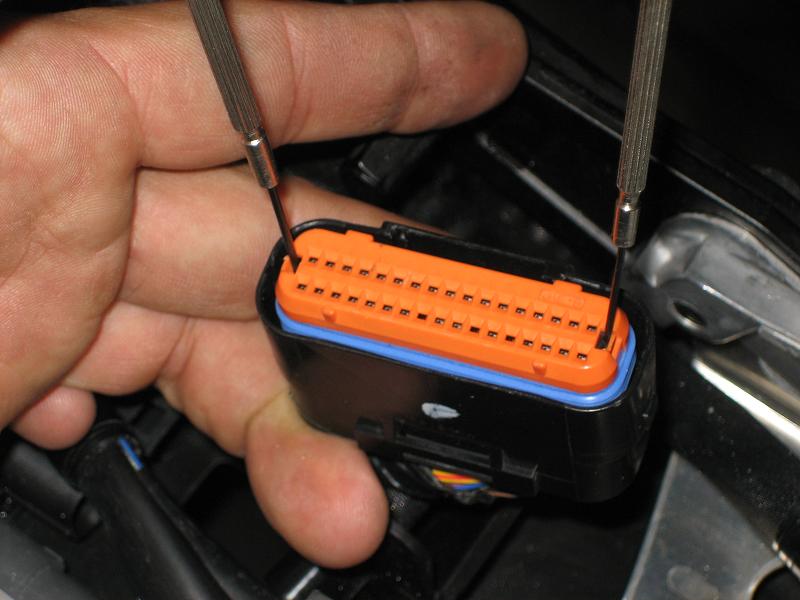 Nella foto sotto il filo del PIN30 è già stato rimosso.
The picture below show the PIN30 already removed.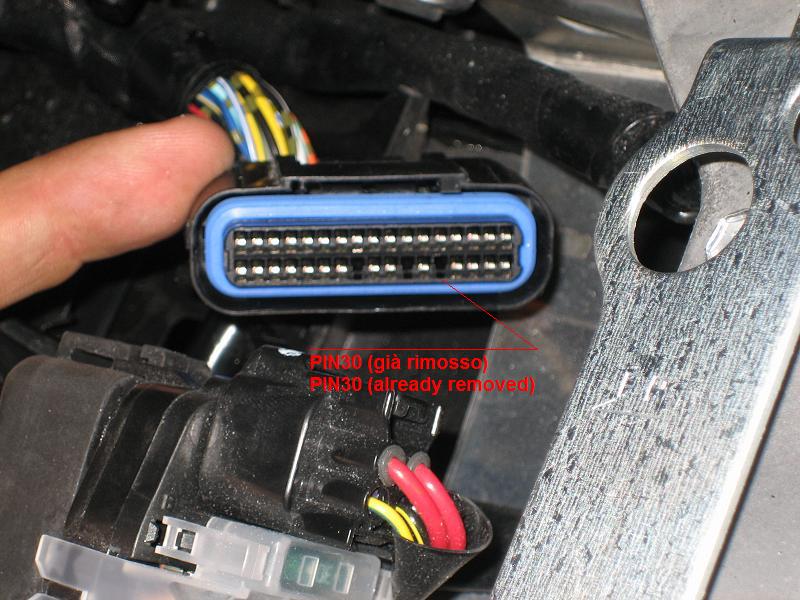 Inserire un piccolo cacciavite nel foro più grande come mostrato nella foto.
Insert a small screwdriver in the big hole as shown in the picture.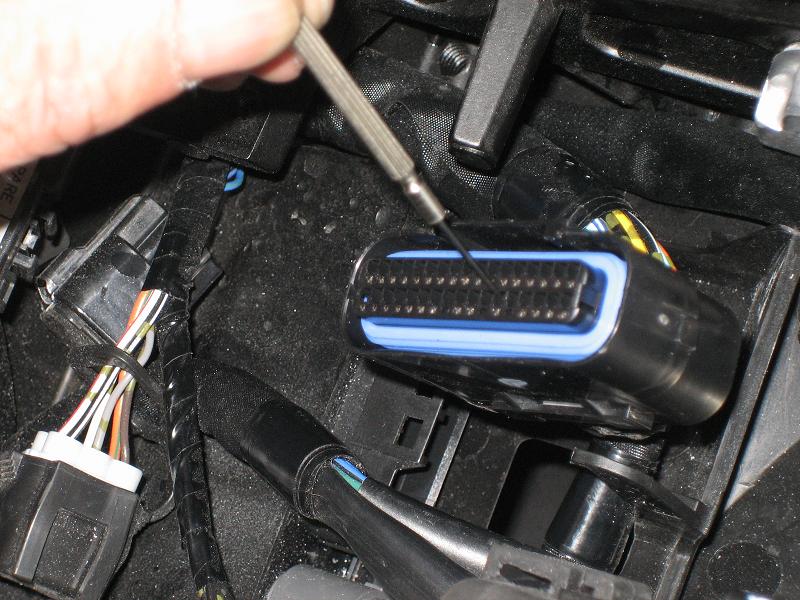 Sollevare il fermo in plastica del pin agendo con il piccolo cacciavite come nella figura qui sotto, e contemporaneamente
estrarre il filo dalla parte posteriore del connettore.
Pull up the plastic tooth by moving the screwdriver as shown in the picture below, while pulling out the wire from the
back side of the connector.